Care Homes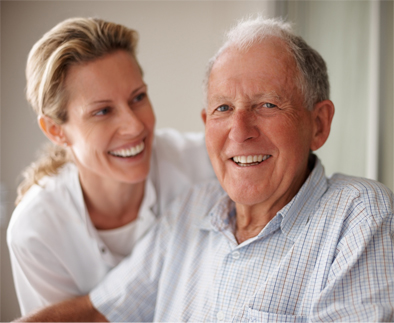 Dental Health Matters....
Please see the News post regarding anytime telephone triage for care homes partcipating in our dental clinics
Dental health matters, especially for the elderly. There are well-known links between poor oral health and poor general health. Poor oral hygiene is common in elderly patients who may lack the dexterity to clean their teeth properly or may not remember whether they have cleaned them or not. Many carers have not had proper training in how to assist with toothbrushing. Sometimes carers assist with the cleaning of a partial denture but fail to realise that the resident still has some of their own teeth remaining which never get cleaned. Many elderly people have worn the same set of dentures for years, while gum shrinkage and weight loss mean that those dentures no longer fit properly. Badly fitting dentures are uncomfortable and make eating difficult, sometimes leading to further weight loss or the resident refusing to wear their dentures and having to move to a diet of pureed food. Denture wearers are also as much if not more at risk of oral cancer than those retaining their own teeth but if your residents are not having dental check-ups, this silent killer could go undiagnosed. In addition, many dentures are lost during hospital stays or simply go astray in the residential care environment and if they are not replaced promptly, the patient may never get used to wearing them again. with knock-on effects on nutrition and ability to enjoy their food.
Focus on Oral Health
For a long time, oral health has been the poor relation of general health but increasingly it is coming under the spotlight. Recently, NICE has produced Guidance on Oral Health for Adults in Care Homes and the Care Quality Commission has looked into dental access for the residential care sector and published its Smiling Matters report.
What provisions do you currently have in place for residents needing access to dental care?
Are you able to supply staff and transport to take residents out to a local practice? Do you have to pass the cost of this on to the residents? Do you rely on visiting relatives to take residents to dental appointments? How efficiently is the NHS able to respond when you have a resident requiring a home dental visit?
On-Site Dental Clinics
We can hold regular dental clinics at your home, enabling residents - even those with dementia and mobility problems - to receive regular check-ups and a range of treatments at a much lower cost than individual appointments. If you are looking for a way to ensure equal access to dental care for your residents, this provides a practical and effective solution. Clinics can also be booked as stand-alone Dentist for the Day or half day visits.
Book ORCA Training for your staff
Our ORCA oral care training course for care staff includes practical exercises and template oral health assessment form, checklist and care plan to help homes comply with best practice and keep records to evidence this.
Tell Your Residents and Relatives About Us
Please tell residents and their families about our service. We are happy to provide you with leaflets and cards to hand out.
Benefits for Care Homes
Confidence that you are meeting CQC outcomes by enabling residents to access dentistry and oral healthcare
Evidence you are aware of the impact that poor oral health can have on the general health of your residents
Opportunity to promote on-site private dental care as part of your service
Peace of mind that your residents enjoy a caring & stress-free experience
Evidence that you value and safeguard residents' privacy, dignity & quality of life
Eliminate the transport and staffing costs of taking residents out to dental appointments
Advice on preventive care and dietary requirements
ORCA oral care training for staff
Benefits for Residents and Relatives
Access to regular dental and oral healthcare helping to maintain general health & well-being
Screening for Oral Cancer
Dental treatments offered on site, no need to arrange transport, no mobility issues
Experienced dental staff, gentle, courteous and caring approach
Comprehensive treatment plan including x-ray if appropriate
Denture fabrication, adjustment & repair (Kent)
Peace of mind for relatives
Spread the cost of dental care with Denplan Essentials
Office Hours Telephone Triage
Care homes taking up our on-site dental clinics can access our office hours telephone triage service for residents experiencing dental pain or other issues. Please feel free to call us on 01304 842995 Monday to Friday between 09.00 and 17.00 (email us on enquiries@themobiledentistcompany.com at weekends and out of hours). We will arrange for one of our dentists to call you back as soon as possible.
All we ask is that a consent form has been provided to us in respect of any patient needing triage. In the case of patients we have not seen before, please email us a completed consent form at the time of enquiry.
For current patients, the dentist may be able to prescribe antibiotics if required, or appropriate dental products and advise on pain relief or any other actions which may assist the patient until they can be seen.